45 Minute MP3: Happy Habits and Neuro-Conditioning

This is one of  my favorite lectures on 10 tools which can
transform your life. Download it free, as my gift.

I was walking along through the Miami Airport recently and
began to flip through my iPhone looking for some
intelligent lectures to listen to during my layover
back to Los Angeles.
I love having 10 minute – 60 minute intelligent lectures
from luminaries and authors I respect.  If you are like me…
you love to learn and keep smart mp3s on your phone or
computer.
Right Click to Download and Listen Now.
Running Time 45 Minutes.

It occurred to me that most of my students & fans around
the world do not have my lectures and seminars
on their iPod or iPhone, at the push of the button.
I've been selfish with my MP3 downloads.
Why? My fault. I've only published about 30 hours of
DVDS and CDS… but most of my lectures are not even
available on iTunes or Audible and I haven't made them
one click away to install on your MP3 player.
So, if you know of a great audio editor…send him/her
my way.
I'm determined to give away at least 1-4 mp3
or videos per month.

So, today I searched through many of my hard drives
to locate some MP3 lectures which you might enjoy
hearing on topics which might be fresh and different
than the standard newsletter content.
What I found shocked me! I have over 40 hours of never-before
published lectures which were recorded from my hip and lavalier microphone
during miscellaneous lectures I gave from 2002-2012.
Wow! I have tons of lectures on everything from language
for raising kids, self-talk, N.L.P., hypnosis techniques that work,
affluent thinking, self-esteem, rapport, time-management, leadership,
The Secret, movies, and of course some handwriting analysis discussions.
So, what I've decided is to release some of these lectures to my
customer email list this year so you can listen to some
inspirational and interesting conversations anytime you have your
smartphone or MP3 player near.
Since you cannot purchase these lectures separately, and most have never
been published… take a minute to open your email and download
them during the week they are released.
NLP and Transformation – Recorded in India.
Here is your first lecture… which is just full of the best tips on thinking
in affluence, speaking in powerful language, and re-thinking your way
to more success and happiness in life.
This was the first 44 minutes of a three day seminar on Success Secrets
recorded live in Bangalore during December 2004.
Listen in to this 9 minute clip of Bart Baggett, Author of the Success Secrets of the Rich & Happy as he explains to a sold-out audience in Pune India the secret of personal transformation.
Success Secrets of the Rich & Happy Habits and Neuron-Conditioning.• Areas of self-esteem.
• R.A.S (Reticular Activating System.)
• How your brain filters out information automatically (costing you success.)
• What is N.L.P and how does it help you change your life?
• How Bart mentally thought himself into his first movie role.
• How to overcome fears and phobias.
• The secrets to manifesting all of your heart's desire.
• The basis of Grapho-Therapy.
• What gets wired together, get's fired together.
• The power of language and linguistics in your own self-talk.
• How language can keep your kids from falling from trees.
• How to use language to improve the success of your kids.
• The power of the word "try" and why you should not use it ever again.
• How to make people like you; the process of building rapport.
• When Bart met Merv Griffin and shared stories about Ronald Reagan.
• How to think bigger, achieve more.
This never-before-released recording is a slice of 46
minutes of a "Success Secrets" seminar which covers
many aspects of NLP, Grapho-therapy, and language
to assist you in changing your thought process to attract
more of what you want in life.
This file will be at this link all week, download it today. Fee $0.
44 Minute File. Download Here. (Right click to Save or Click to open in new window.)
————————————————————————————————————
What to learn more about creating wealth

through being a
speaker, author, expert or life coach?
————————————————————————————————————
Consider joining Bart Baggett's Mastermind Group or Platinum Coaching Program
and jumpstart your success as a teacher of ideas and life-changing information.
http://bartbaggett.com/blog/coaching-program/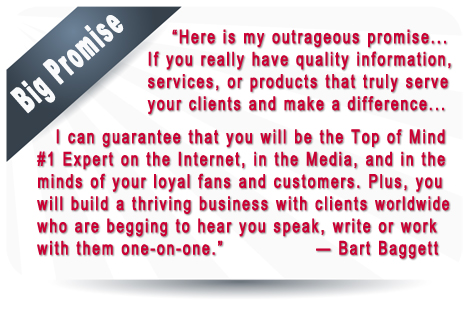 http://bartbaggett.com/blog/coaching-program/