"Mommy, Who Stole My Identity?" Follow 5 Tips to Avoid Childhood Identity Theft during National Protect Your Identity Week (October 17-24, 2009)
According to the Federal Trade Commission, five percent of identity theft complaints come from children under the age of 18. Not only is childhood identity theft on the rise, its detection is delayed, making the crime an easy one to hide. During National Foundation for Credit Counseling's National Protect Your Identity Week (October 17-24, 2009), The Campus Safety Expert Bob Baier offers five tips to prevent childhood identity theft.
New York, NY (Vocus/PRWEB ) October 21, 2009 –- It is a debilitating crime. Identity theft violates its victims, strips them of their ability to purchase homes and cars, and leaves them swimming in a never-ending sea of paperwork. When five percent of identity theft happens to minors under the age of 18, according to the Federal Trade Commission, thieves are beginning to realize that children are an easy, and profitable, target.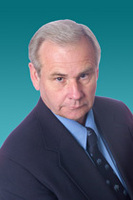 Bob Baier – Identity Theft Expert and Forensic Document Examiner
"Young people don't even realize their identity has been stolen until they apply for their driver's permit, apply for a college loan, or open their first checking account," warns The Campus Safety Expert Bob Baier, author of Identity Theft – Prevention for the College Student. "The crime can go undetected for up to 15 years! By the time parents realize their children have been violated, the thieves are long gone."
Childhood identity theft can ruin its victims' names, preventing them from buying cars and homes, leaving them with thousands of dollars in collections, and with credit accounts and addresses where they have never lived, years after the crime has been detected. Among his 7 Most Important Things You Need to Know to Prevent Identity Theft, these are particularly important to parents of minors:
1.
Tell your child to immediately remove all P2P (peer to peer) programs for downloading free music and games from their computers (Lime Wire, Bear Share, Soul Seek etc.). Place them onto a thumb drive, disc, memory stick. Criminals anywhere in the world have total access to every single item on their computer when they are on the internet.
2.
On every social networking site, have your child remove all personal information including addresses, birthdays, telephone numbers etc. Tell them never to link to someone they do not already know. When they click on a link malware is downloaded onto their computer.
3.
Check your child's free credit report regularly. It is estimated that there is at least one child in every classroom in the United States that has already had their identities stolen.
4.
Watch for shoulder surfing. Your children must be aware of everyone around them, anytime they are on their laptops. At school, in the park, waiting for transportation, any public place. People are looking over their shoulder and using mobile phone cameras to take pictures of personal information.
5.
Tell your child to be very careful on "chats." Never give out personal information of any kind. Foreign computer hackers have developed what is called "Russian Robots" which are automated computer programs that can chat with 10 people at a time with the sole purpose of acquiring as much information as possible to steal their identity. Victims are unable to detect they are giving vital information to only a computer.
When it comes to keeping kids safe, Bob Baier of Warwick, New York, covers all of the bases: Dating Abuse, Date Rape and Sexual Assault, Safer Sex, Domestic Violence, Alcohol and Drug Awareness, and of course, Identity Theft. In his full time profession as a forensic document examiner, Baier was seeing more signatures being forged and more identities stolen, which prompted him to write Identity Theft – Prevention for the College Student. Also known as The Campus Safety Expert, Baier is a court qualified Forensic Handwriting Investigator who has rendered an opinion in 23 states and 2 countries, and he has testified as an expert witness in 8 states. A Guinness World Record breaking canoeist, this pilot, parachutist, and balloonist has also driven a race car at 160 miles per hour. A bit of a daredevil in his everyday life, Baier recommends prudence when it comes to protecting ones identity. He teaches forensic document examination at the International School of Forensic Document Examination and was named the 2008 Forensic Document Examiner of the year by Handwriting Services International.
For more information about The Campus Safety Expert Bob Baier, log onto http://ExpertDocumentExaminerWeb.com or call 1.888.460.3828.OR
OR
For more information about The Campus Safety Expert Bob Baier, including a free listing of The FBI's Top 10 Latest Scams and the free 30 Day Program to Help Prevent Identity Theft, click on Identity Theft at www.BobBaierInfo.com or call 1.888.460.3827.